Governor Rick Scott Signs the Estoppel Reform Bill Into Law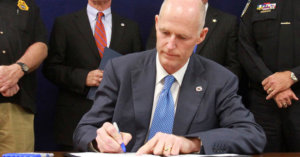 Hello again Rich Barbara with anotherepisode of title buzz and today we have big news in the real estate business. On June 14th Governor Rick Scott's signed the estoppel reform bill into law.
Now this is a part of the real estate transaction that has been problematic and costly for unit owners and Realtors and parties going back to the dawn of time. On the estoppel certificate is required each transaction that involves a condo association or a homeowners association and the certificate is important because it lets the parties know and it gives the parties accurate information regarding assessments and violations.
The new law will require that associations require provide estoppel within 10 days of the request. It caps the amount that associations and property management companies can charge first office certificates which is important because people were getting fleets by opportunistic associations and it also dictates that there be a specific promulgated form of use for the estoppel so, that the wild variations that we see in the industry go away, we have some uniformity and further can expedite transactions.
So this is a big win for Florida property owners, for real estate agents and foreclosing agents and we're very happy to report about it. The estoppel reform bill signed into law by Rick Scott, June 14th. If you have any questions about your real estate transaction, give us a call. Rich Barbara Coral Gables Title and Escrow